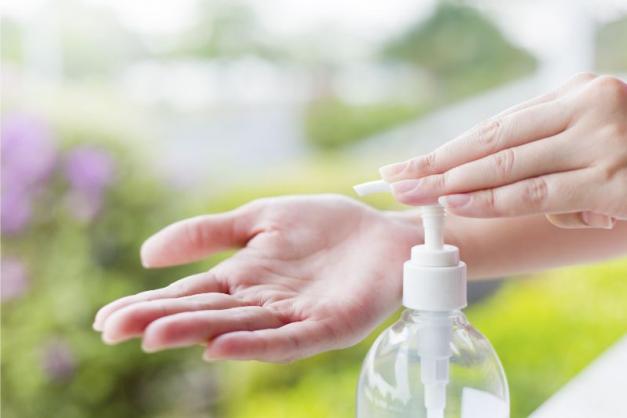 Frequently cleaning your hands can slow the spread of germs. Alcohol based hand sanitizers or gels or antibacterial wipes are useful alternatives if soap and water are not available (for example, when traveling in the car or taxi on the way to a business meeting, before eating an in-flight meal or snack, outdoor work settings, etc.)
When Soap & Water are not Available - Use Hand Sanitizer or Hand Wipes
Use one or two squirts or pumps of the product.
Rub hands together briskly, including the front and back, between fingers, around and under nails until hands are dry.
Wipes:
Wipe all areas of hands until they are visibly clean.
Use one or more wipes and dispose in an appropriate trash container.
Let hands air dry.
Safe Use and Storage:
As with other household products, the key is proper storage and usage. Small children should be supervised when using hand sanitizers. Children should be instructed that 1 pump is all they need to cover the entire surface of the hands and to avoid putting their hands to their eyes or in their mouths until the product has dried on their hands, usually 15 seconds. 
Be sure to:
Always read and follow instructions on all products before using.
Avoid contact with eyes. In case of eye contact, flush with water.
Stop use and ask a doctor if irritation or redness develops.
Most hand sanitizers ar flammable. Keep away from fire or flame.
When not in use, the product should be stored properly in a safe place out of reach of children.
Hand hygiene products like hand sanitizers, are intended for external use only. Avoid contact with face, eyes and broken skin. Stop use and ask a doctor if irritation and redness develops.
If eye contact occurs, flush thoroughly with water and seek medical advice. If swallowed, get medical help or contact the U.S. Poison Control Center's toll-free hotline at 1-800-222-1222.