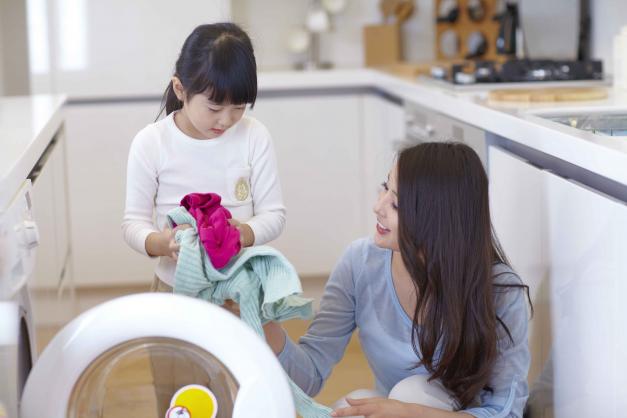 Laundry can be a good focus chores and tasks can be given to toddlers on up, however the most important place to start is what not to do. First, teach the importance of laundry safety. Our child activity sheet can help, along with the other resources and information available in our Packets Up! campaign.
Next, sorting is a good place to start. It's important to wash like with like. So, teach them to check garment labels. All clothing and fabrics that call for the same water temperature, wash cycles and type of detergent should be washed together. Though it's always a good idea to:
Wash dark and bright clothes in one load, pastels and lighter colors in another, and whites should be kept separate.
Wash lightly soiled clothes separate from the really grimy stuff. Bet you didn't know that cleaner clothes can become dirtier in filthy wash water!
Sort items like fuzzy sweatshirts, robes and bulky bath towels that might shed lint, and wash those separately.
They can also with tasks like pairing socks, folding towels and, as they get older, folding and putting away their own clothes. But, remember – better that your kids not do the laundry perfectly than not do it at all.