04/17/2023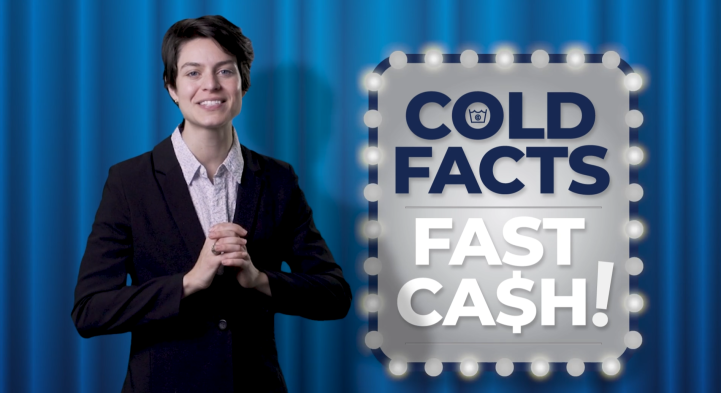 'Cold Facts, Fast Cash' Game Show Highlights Power of Cold Washing
Earth Week is April 16 to Earth Day, April 22
The American Cleaning Institute (ACI) launched the 'Cold Facts, Fast Cash' game show as part of the Cold Water Saves initiative, a joint effort of ACI and The Sustainability Consortium (TSC) to promote the power of cold water washing.
This week marks Earth Week, which is a great time to remind consumers of all the benefits of washing some of our clothes in cold water.
ACI's annual National Cleaning Survey found that 56% of Americans use cold water less than half of the time that they do laundry.
How impactful can washing on cold be?
If everyone turns 3 out of 4 loads of laundry to cold water by 2030, the resulting reduction in greenhouse gas emissions over the next decade would keep 27 million metric tons of carbon dioxide out of the atmosphere.
"The 'Cold Facts, Fast Cash' game show is a fun way to show ACI's commitment to sustainability," said Nathan Sell, ACI Senior Director, Sustainability. "We want consumers to understand the benefits that come with washing in cold. Benefits they'll see in their clothes and feel in their wallet, while knowing they're making a difference for the planet."
In addition to the game show, the site offers resources about the advantages of cold water washing and the sustainable ways we can launder our clothes. The site also features new content, facts, videos and stories.
Learn more at coldwatersaves.org. Spread the word by sharing the hashtag #ColdWaterSaves.
---
About the Survey
The American Cleaning Institute Survey was conducted by Wakefield Research (www.wakefieldresearch.com) among 1,000 nationally representative US adults ages 18+, between February 17th and February 23rd, 2023, using an email invitation and an online survey. Data has been weighted to ensure an accurate representation of US adults ages 18+. Results of any sample are subject to sampling variation. The magnitude of the variation is measurable and is affected by the number of interviews and the level of the percentages expressing the results. For the interviews conducted in this particular study, the chances are 95 in 100 that a survey result does not vary, plus or minus, by more than 3.1 percentage points from the result that would be obtained if interviews had been conducted with all persons in the universe represented by the sample.
The American Cleaning Institute®(ACI – www.cleaninginstitute.org) is the Home of the U.S. Cleaning Products Industry® and represents the $60 billion U.S. cleaning product supply chain. ACI members include the manufacturers and formulators of soaps, detergents, and general cleaning products used in household, commercial, industrial and institutional settings; companies that supply ingredients and finished packaging for these products; and chemical distributors. ACI serves the growth and innovation of the U.S. cleaning products industry by advancing the health and quality of life of people and protecting our planet. ACI achieves this through a continuous commitment to sound science and being a credible voice for the cleaning products industry.