Did you know that there are different levels of laundry? There's routine everyday cleaning and then there are the extra steps and enhanced precautions you should be taking when a family member is sick or has a weakened immune system. We relied on laundry safety experts to determine what precautions were recommended when and created a three-level laundry guide for best laundry practices for better health. Know the Levels of Laundry and how to step up your laundry routine, when needed, to help care for you and your family.
Remember to always follow fabric care labels and product instructions for proper use and to avoid damaging clothes.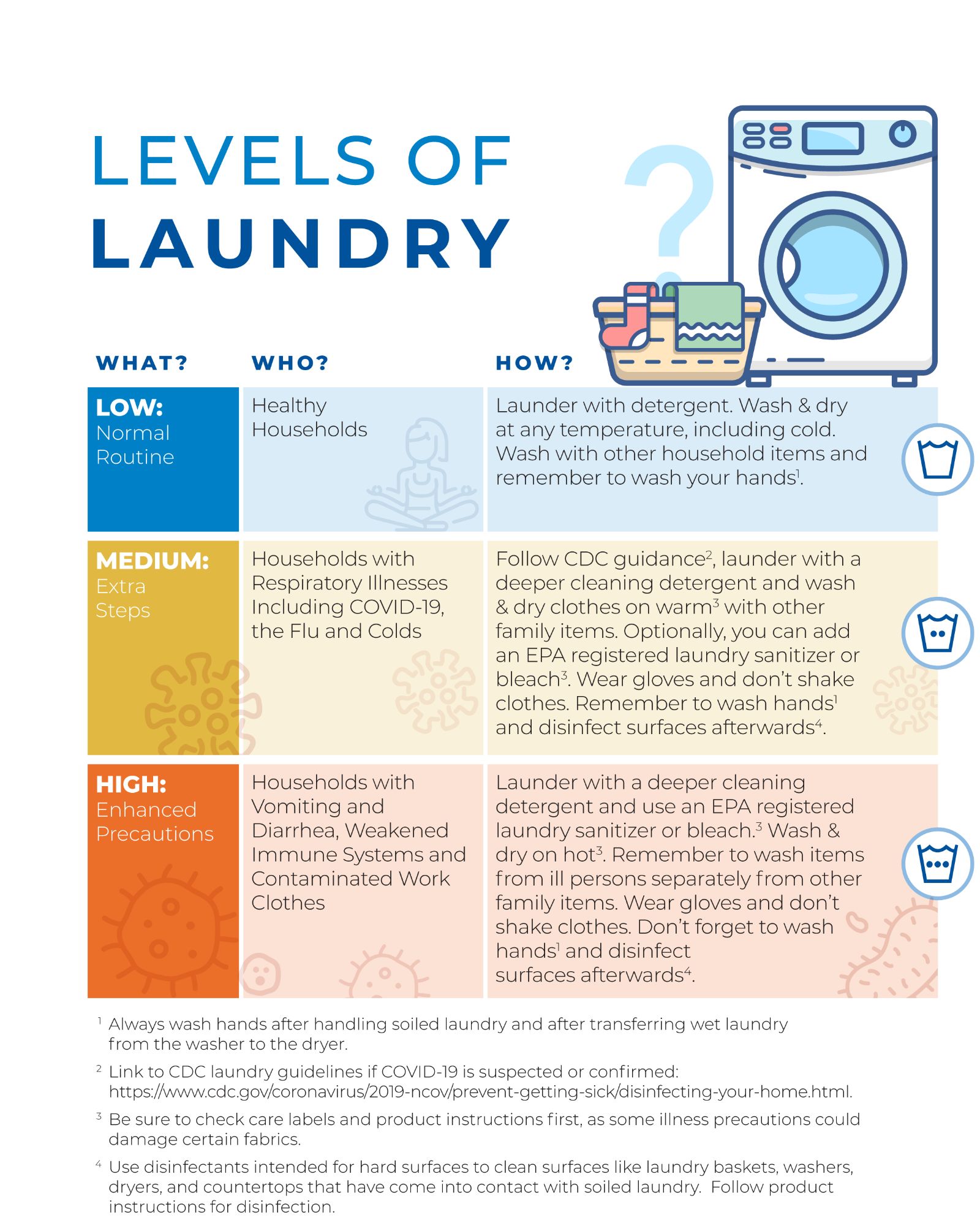 What is a Deeper Cleaning Detergent?
Deeper cleaning detergents are ones designed to tackle heavier stains and soils. Look for ones that contain enzymes and multiple surfactants. For help finding those ingredients more easily, download the SmartLabel app or look for the QR code on the detergent label.
What is a Laundry Sanitizer/Bleach?
Like sanitizers/disinfectants that are intended to kill bacteria on hard surfaces, an EPA Registered laundry sanitizer (including bleach) can kill bacteria on clothes during the laundry process.
When to Go Up a Laundry Level:
LOW: Normal Routine – Most of the time, a healthy household is low risk and can do the laundry as usual and wash in cold water. A deeper cleaning detergent or fabric sanitizer to combat odor causing bacteria may be helpful at this level based on your family's activity level and the amount of soiling on the clothing.
MEDIUM: Extra Steps – If someone in your household is sick with a respiratory illness like COVID-19, the flu, or colds, it can help to take extra precautions to keep others from getting ill. These include initial extra steps to take like not shaking laundry and washing and drying on warmer temperatures. Optionally, you can move up to the next level – Enhanced Precautions.
HIGH: Enhanced Precautions – Times to be extra careful with your laundry and take all available precautions include when a household member has a weakened immune system, a stomach bug (with vomiting and/or diarrhea) or needs to clean contaminated work clothing. Some washing machines have a sanitizing cycle, which can also help.
NOTE: At the LOW level, you can wait until laundry day to wash items while at the MEDIUM and HIGH levels laundry should be done as soon as possible.
Find the level that best fits your needs and brings you peace of mind in the laundry room.