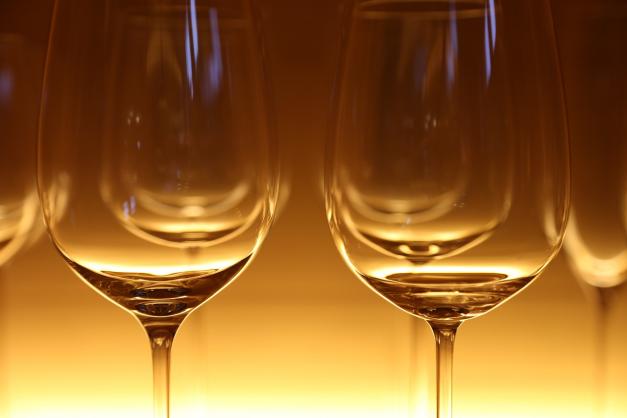 Here's a few tips that will make sure you get the best flavors from your wines and keep your wine glasses sparkling clean.
Cleaning Wine Glasses
Yes, you can put most wine glasses in the dishwasher. Be sure to use a delicate wash cycle, skip the heated drying cycle and space glasses so they won't hit each other and possibly chip or break. The best long-term results, though, come from washing special glassware by hand. Follow these tips to avoid chips and spots:
Make sure your sink is clean; and it's best to clean the glasses before you tackle the greasy dinner plates or pots and pans.
Lay a towel in the sink before filling with hot water. Wash one wine glass at a time to avoid damage.
To keep soap from flavoring your next glass of wine, use a small amount of detergent and use it only where it's needed -- in the bottom of the glass and around the rim. Cradle the bowl of the glass in one hand while washing to protect the stem.
To clean the inside of a glass, use a stemware brush with soft-foam bristles.
Rinsing thoroughly with hot water
While your glasses are still hot from the rinse, put them upside down and let them air dry or dry the wine glasses with a smooth lint-free cloth, such as a microfiber or flour sack towel.
Notes:
Red wine can leave stains if left overnight. As you clear the food after your party quickly rinse any glasses. The final clean can wait until the morning.
Cleaning Crystal and China
Whatever the special occasion, there are times when you want to break out the fancier ware. To keep your china and crystal looking good for many years of special dinners, take care when washing.
Unless the manufacturer tells you otherwise, china and crystal should be washed by hand. China (especially metal-rimmed, hand-painted or antique) and crystal should not be put in the dishwasher because these dishes can be easily chipped.
Tips:
Pre-Rinse.
As soon as possible after your meal, rinse your glasses and dishes. Rinsing the crystal glasses helps prevent wine and other beverages from staining them. If you need to scrape food off the plates, use a rubber spatula, not silverware to avoid scratching or leaving gray marks on your china.
Cushion Please.
Use a folded towel in the bottom of your sink (on the wash and rinse sides) to cushion the glasses and dishes.
Warm Water.
Wash and rinse in warm water. If the water is too hot for your hands, it's too hot for china and crystal, and sudden changes of temperature can cause dishes and glasses to crack. Wash one at a time to keep the glasses from hitting each other.
Towel Dry.
Air drying can leave spots on your glasses and dishes. Use a lint-free of linen towel to dry.
Notes:
Crystal glasses may develop a white or grey film. To remove it, just soak them in a weak vinegar and water solution for an hour or two. The vinegar (acetic acid) eats away the organic (wine) build up. After a while you'll have sparkling clean glasses again.
Crystal is much more porous than typical glass and is more likely to absorb odors from its surroundings. It's best not to store them near your coffee, spice rack or cleaning supplies.