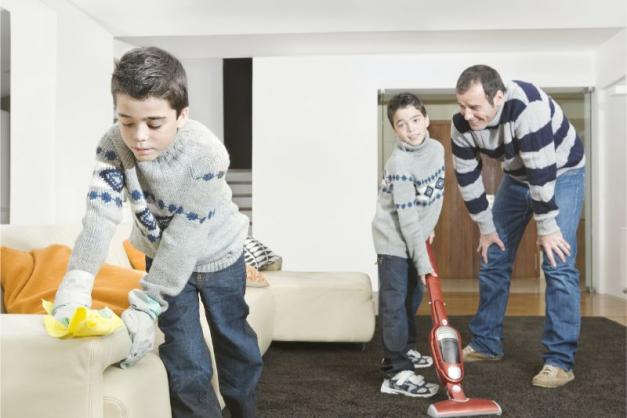 Family life runs more smoothly when there is a shared responsibility for the housework. Whether it's a simple effort like putting dirty clothes in the hamper or a major job like washing the kitchen floor, almost every family member can contribute in some way that fits his/her age and other responsibilities.
Everyone in the family can find a way to pitch in and make doing the housework easier and less of a one-person chore, regardless of experience level.
Here Is a Basic Cleaning Guide:
Practice Prevention
Keep clutter to a minimum. Having lots of stuff around makes cleaning harder and gives places for dust and allergens to collect.
Wash hands with soap and warm water regularly - to help stay healthy and keep dirt and germs off household surfaces.
Wipe shoes on entryway rugs or mats to protect floors and carpets, and to catch dirt, dust, pollen and other allergens brought in from the outside.
Keep bathroom and kitchen surfaces as dry and clean as possible to help control the growth of moisture-loving bacteria, mold and mildew.
Leave shower doors and curtains open after use so shower walls can air-dry.
Treat spots and stains on garments and clothes as soon as they occur.
Promptly clean up crumbs and other food scraps after preparing or eating food.
Wipe up spills before they have a chance to dry.
Put coasters under beverage glasses to prevent water spots and rings on wood surfaces.
Give Priority to the Important Jobs
Clean and disinfect cutting boards and kitchen countertops before and after preparing food to help reduce the threat of foodborne illness.
Disinfect sink areas, toilet bowls, tubs and showers to kill germs as well as mold and mildew that can trigger asthma attacks.
Launder sheets weekly in warm or hot water to remove dust mite allergens and keep linens fresh.
Wash towels and bathmats once a week.
Dust hard furniture regularly using a dusting product.
Vacuum carpets and mop wood floors once a week.
Follow Tips from the Experts
When doing the laundry,
Check clothing care labels to see how the manufacturer recommends caring for the garment.
Match the wash cycle and water level to the load.
Separate colors from whites (to keep dyes from bleeding onto lighter-colored fabrics) and heavily soiled items from lightly soiled ones.
Use the recommended amount of detergent per load. Adjust the amount of detergent if soil, water or machine conditions are not average.
In the bathroom,
To fight mildew in the shower, clean stalls and bathtubs using a non-abrasive, all-purpose or disinfectant (antibacterial) cleaner. Check the label to find out if the product kills germs and/or mildew, and follow directions for best results.
To get rid of the "ring around the bathtub," use a soap scum remover.
Use a daily shower spray on walls and shower curtains to keep mildew from growing.
Clean vinyl or ceramic tile using a floor cleaner or a non-abrasive, all-purpose cleaner.
Tackling kitchen surfaces,
Use a disinfectant (antibacterial) cleaner to clean countertops and kill bacteria that may be found in raw meat, poultry or fish.
Clean refrigerator walls and shelves using a nonabrasive, all-purpose cleaner or a solution of baking soda and water.
Sweep or vacuum the floor first, then mop starting at the farthest corner of the room and working your way toward the exit. Use a cleaner that's right for your floor type.
Use an abrasive cleanser for hard-to-remove soils like food particles and grease residues in sinks. Read the label first to see whether the cleaner is recommended for the finish.
In a hurry? Check out our Efficient Home Cleaning Guide.