The warm summer months are here and with it come the small shifts we make with the change of seasons.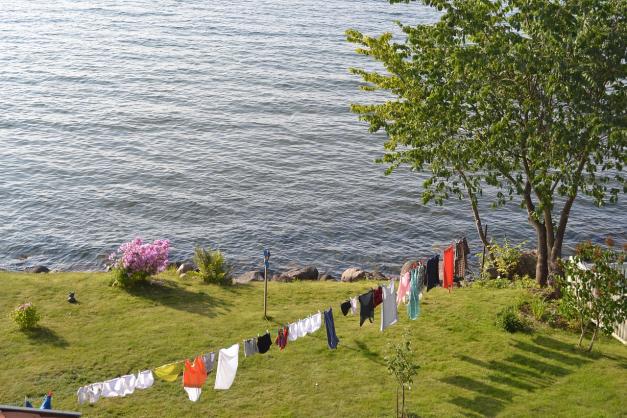 Jackets may get packed away and lighter clothes get pulled out. If you're ready to transition to summer, here are some tips to get you ready:
Store Seasonal Clothing
Summer in many parts of the country mean fewer layers. It's time to put heavier clothes into storage and make room for some summer finery. But don't just put them out of sight and out of mind. If you do that, you may be in for some unpleasant surprises when the cold weather returns. To avoid this, here are recommendations:
Thoroughly clean all items before storing. Certain soils can attract insects. You wouldn't want your favorite sweater to become their feasting ground! In addition, stains that the eye can barely see may turn yellow or darken over time.
Make repairs. Check for sagging hemlines, missing buttons, split seams, etc. Repair them now so your clothes will be wear-ready when that first cold day strikes.
Don't starch or iron garments before storing. Starch just provides more nourishment for insects. Ironing may heat set stains that have not been completely removed. If they reappear after a long summer siesta, they may be impossible to remove.
Store garments in a cool, dark, dry, well-ventilated area. Good choices include a cool closet, an airtight chest, or an under-the-bed cardboard box. Avoid plastic bags or bins. They can trap air and moisture, creating a damp, unsuitable atmosphere.
Don't neglect your coats. Once we stop wearing them, there's a tendency to stop thinking about them. Then, on that first chilly day, you may be in for a nasty surprise. If professional dry-cleaning is required, check to see if the drycleaner offers box storage. Then make a note on your calendar to pick them up before the cold weather strikes.
Clean Out the Clutter
As you're packing the seasonal things away or finishing up and belated spring cleaning, you'll likely come across things you no longer need and we have two words for you: Garage sSale. They are a suburban staple and as common on a summer's day as lemonade stands. It's the perfect time to go through each room and clear out the things that are collecting dust.
Whether you've picked up a treasure that had been hidden in someone else's basement for years, or you are trying to pass off your junk as valuable, you'll need to know how to clean a variety of surfaces. Get the dust off as well as any stains to give your belongings a new lease on life for their next chapter. Here's a handy guide with links to routine care and special instructions (link to stain guide).
Summer Cleaning for Energy Savings
With summer coming, your energy needs will likely go up as the air conditioning gets turned on. Finding ways to get those daily chores done without heating up your home and adding stress to your air conditioner (and wallet) is key. So here are some habits to get in now that you'll be thanking us for as the days heat up. First rule of thumb: Do your chores when it is cooler outside – before breakfast or after dinner.
In the Kitchen

Use your dishwashers energy saving setting (or turn it off early) and let your dishes air dry
Meals off the grill just taste better. Keep from heating up your kitchen (and house) by cooking outside.
Or don't cook at all. Choose salads and other cold meals and eat dinner al fresco!
Put your small appliances on a power strip so you can turn it off when not in use or unplug them.
Turn off the lights if you don't need them (and always when you leave the room).

In the Laundry Room

Most items can be washed with cold water, this saves money and keep the laundry room from heating up.
Let the sun dry your clothes so your dryer doesn't heat up your house (be sure to turn them inside out so they don't fade) – sunny and breezy days are best.
If you do use the dryer, don't overload (or underload) since the load will take longer to dry.
Adding a clean, dry bath towel to a load of jeans or other heavy items will reduce drying time.
Skip the iron – before drying on the line, shake out each item to release wrinkles, then straighten and smooth each garment as it's hung.
Extra tip: Wear your clothes one more time before washing. It is summer – time for the relaxed look!
Healthy Summer Habits
Schools may be out for summer, but this is no time to relax your handwashing habits. According to the Centers for Disease Control and Prevention, keeping hands clean through improved hand hygiene is one of the most important steps we can take to avoid getting sick and spreading germs to others.
Everything you need to know about handwashing you probably learned in preschool. But, if you forgot, here's a reminder of the steps for washing your hands:
Wet your hands with clean, running water (warm or cold) and apply soap.
Rub your hands together to make a lather and scrub them well; be sure to scrub the backs of your hands, between your fingers, and under your nails.
Continue rubbing your hands for at least 20 seconds. Need a timer? Hum the "Happy Birthday" song from beginning to end twice.
Rinse your hands well under running water.
Dry your hands using a clean towel or air dry them.
Summer Reading List
Enhance your summer handwashing lessons with free educational materials from the American Cleaning Institute. Click the links to download these resources:
   
Now you're all ready for a fun and healthy summer. Enjoy!