01/21/2021
The American Cleaning Institute (ACI) submitted comments to the New York State Department of Environmental Conservation (DEC) regarding the implementation of a law limiting the amount of 1,4-dioxane that can be present in household cleansing, personal care, and cosmetic products sold or offered for sale in-state.
1,4-dioxane is a byproduct of the manufacturing process for some surfactants contained in cleaning products and detergents and is not an intentionally added ingredient. Companies continue to work diligently to adjust manufacturing processes to remove the trace amounts that have been found in these products.
In comments focused on concentrated cleaning products, ACI:
Highlights that the same level of 1,4-dioxane will be present (contained in a recommended dose) because more product is needed for the same cleaning task.
Highlights the potential shift for manufacturers to return to non-concentrated products, which includes the elimination of some product categories, such as liquid laundry packets and refill concentrate products.
Draws attention to the possible consequences of increased plastic consumption, water consumption and CO2 emissions during manufacturing, packaging and distribution.
Underlines the challenges suppliers could face including installing expensive systems and the potential need to develop new technology, costs that will ultimately be passed onto consumers.
"ACI supports DEC's efforts to elicit comments on the implementation of the 1,4-dioxane statute and we look forward to continued engagement with the agency," said Kathleen Stanton, ACI Associate Vice President, Technical & International Affairs.
Read the association's complete comments here.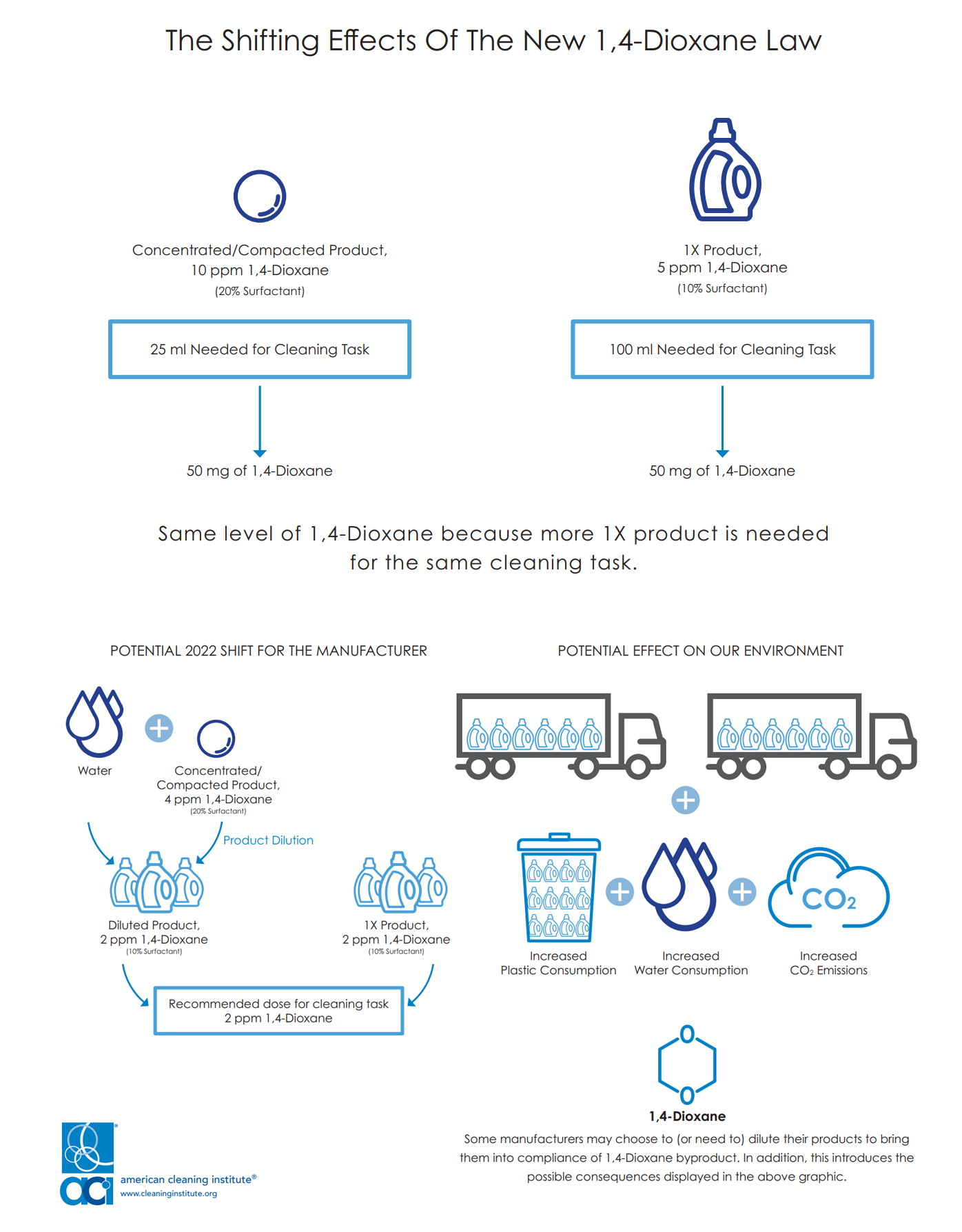 ---
The American Cleaning Institute® (ACI – www.cleaninginstitute.org) is the Home of the U.S. Cleaning Products Industry® and represents the $60 billion U.S. cleaning product supply chain. ACI members include the manufacturers and formulators of soaps, detergents, and general cleaning products used in household, commercial, industrial and institutional settings; companies that supply ingredients and finished packaging for these products; and chemical distributors.  ACI serves the growth and innovation of the U.S. cleaning products industry by advancing the health and quality of life of people and protecting our planet. ACI achieves this through a continuous commitment to sound science and being a credible voice for the cleaning products industry.