05/7/2021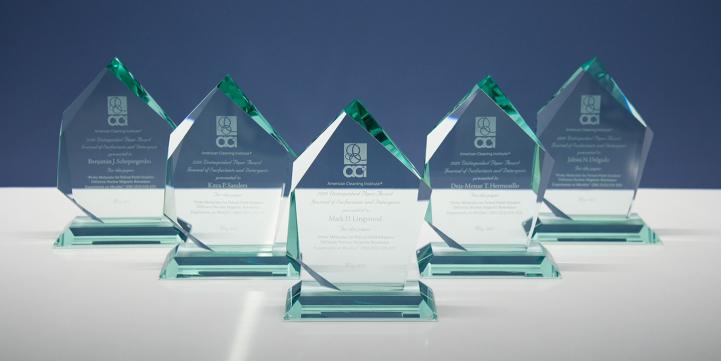 ACI Distinguished Paper Award Presented at AOCS Annual Meeting
Research that could help improve micelle sizing and partitioning studies using nuclear magnetic resonance (NMR) has been recognized as the best paper published in 2020 in the Journal of Surfactants & Detergents.
The authors were recognized during the 2021 American Oil Chemists' Society (AOCS) Annual Meeting, held virtually May 3-14.
The Distinguished Paper Award is an annual honor presented by the American Cleaning Institute® (ACI).
Dr. Mark Lingwood, Associate Professor of Chemistry, Saint Mary's College of California, was lead author on the paper, and was joined by undergraduate students Benjamin Schepergerdes, Deja‐Monae Hermosillo, Jalissa Delgado, and Kaya Sanders.
The article focuses on NMR measurements of micelles, which are aggregations of molecules known as surfactants. These groups of molecules are critical components of cleaning products, but also play a role in flavor and fragrance encapsulation and can even be used as drug-delivery platforms. When studying these systems, researchers often want to know the size of the micelle and/or information on any flavor or fragrance molecules that are encapsulated in the micelle. An attractive method for determining this information is pulsed-field-gradient diffusion NMR, however these measurements are complicated by rapid exchange of surfactant molecules into and out of the micelle.
Dr. Lingwood and coworkers presented measurements on a series of 'probe' molecules and described which probes give accurate results for micelle sizing or encapsulation studies in certain classes of micelles, given the complications posed by surfactant exchange. Notably, they showed that some probe molecules commonly used for these studies are in fact not suitable for NMR diffusion measurements in the systems they studied. The results presented in their article will help future researchers obtain accurate results for micelle sizing or partitioning studies using pulsed‐field‐gradient NMR.
"I am thrilled to be presented with this award." said Dr. Lingwood. "I am very proud of the article we published, and am grateful that our work is being recognized and honored."
The paper, "Probe Molecules for Pulsed‐Field‐Gradient Diffusion Nuclear Magnetic Resonance Experiments on Micelles," was published in the Journal of Surfactants and Detergents, March 2020, Volume 23, Issue 2, pp 319-325.
---
The American Cleaning Institute® (ACI – www.cleaninginstitute.org) is the Home of the U.S. Cleaning Products Industry® and represents the $60 billion U.S. cleaning product supply chain. ACI members include the manufacturers and formulators of soaps, detergents, and general cleaning products used in household, commercial, industrial and institutional settings; companies that supply ingredients and finished packaging for these products; and chemical distributors. ACI serves the growth and innovation of the U.S. cleaning products industry by advancing the health and quality of life of people and protecting our planet. ACI achieves this through a continuous commitment to sound science and being a credible voice for the cleaning products industry.