12/14/2021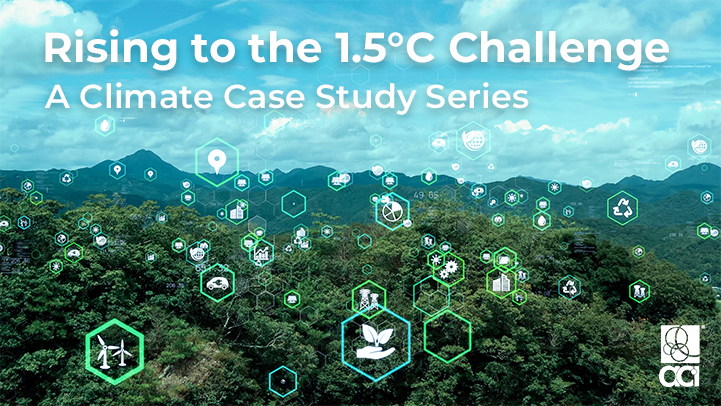 American Cleaning Institute (ACI) Members Demonstrate Progress Toward Bold, Science-Based Commitments in Case Study Series
The American Cleaning Institute (ACI) is highlighting how leading companies throughout the cleaning product supply chain are taking action to meet ambitious climate targets.
The online case study series, Rising to the 1.5°C Challenge, features stories from companies that have committed to ACI's 1.5°C Climate Challenge, which strives to reach net-zero global emissions by 2050.
Seventeen ACI members have already stepped up to the challenge. Five member companies have participated in the case study series so far, sharing their strategies to meet the challenge. Over time, ACI expects to add to its library of case studies in order to expand the knowledge base on this important and growing sector.
Company case studies include:
"Limiting the global average temperature rise will require climate action on many fronts," said Nathan Sell, ACI Senior Director, Sustainability. "As an industry, cleaning product manufacturers and chemistry producers are committed to reducing greenhouse gas emissions within the manufacturing of cleaning products, as well as within the supply chain and during product use. These case studies share some of the many ways companies are working to make climate commitments a reality. Our hope at ACI is to inspire the industry to raise ambitions and support consumers in their sustainability journey."
For more information about ACI's climate case studies, visit: https://www.cleaninginstitute.org/sustainability-case-studies
For more information about ACI's climate ambition and roadmap, visit: https://www.cleaninginstitute.org/industry-priorities/sustainability/sustainability-goals/goal-reduce-emissions
---
The American Cleaning Institute® (ACI – www.cleaninginstitute.org) is the Home of the U.S. Cleaning Products Industry® and represents the $60 billion U.S. cleaning product supply chain. ACI members include the manufacturers and formulators of soaps, detergents, and general cleaning products used in household, commercial, industrial and institutional settings; companies that supply ingredients and finished packaging for these products; and chemical distributors.  ACI serves the growth and innovation of the U.S. cleaning products industry by advancing the health and quality of life of people and protecting our planet. ACI achieves this through a continuous commitment to sound science and being a credible voice for the cleaning products industry.