10/26/2021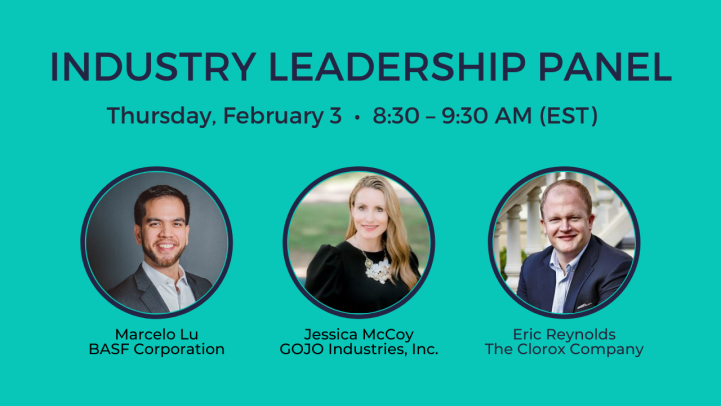 Feb. 3 Session: Post-COVID: Where Do We Go from Here? Driving the Industry Forward
ACI Convention Set for Jan. 31-Feb. 5, Orlando, FL
Executives from BASF, Clorox and GOJO will discuss how they are navigating the economic roller coaster in the wake of COVID during the Industry Leadership Panel at the 2022 American Cleaning Institute (ACI) Industry Convention.
The panelists will discuss the most critical issues impacting the cleaning products supply chain, from megatrends, to post-COVID impacts on the industry, sustainability and transparency.
The Industry Leadership Panel will take place February 3 during ACI's Convention Week, January 31-February 5, 2022 at the Grande Lakes Orlando in Orlando, Florida.
The panelists, all members of ACI's Board of Directors, include:
Marcelo Lu, Senior Vice President - Care Chemicals North America, BASF Corporation
Jessica McCoy, Chief Solutions Officer, GOJO Industries, Inc.
Eric Reynolds, Chief Operating Officer and Executive Vice President, The Clorox Company
Moderator: Melissa Hockstad, President and CEO, ACI
Registration for the global cleaning product supply chain's top business-to-business event is now open on the ACI website.
Companies that are eligible to join ACI must be members of the association to attend the Convention. Membership inquiries can be directed to Membership@cleaninginstitute.org.
The ACI Convention offers a multitude of sponsorship opportunities for interested companies. For more information or questions about Convention, please contact Meetings@cleaninginstitute.org.
---
The American Cleaning Institute® (ACI – www.cleaninginstitute.org) is the Home of the U.S. Cleaning Products Industry® and represents the $60 billion U.S. cleaning product supply chain. ACI members include the manufacturers and formulators of soaps, detergents, and general cleaning products used in household, commercial, industrial and institutional settings; companies that supply ingredients and finished packaging for these products; and chemical distributors. ACI serves the growth and innovation of the U.S. cleaning products industry by advancing the health and quality of life of people and protecting our planet. ACI achieves this through a continuous commitment to sound science and being a credible voice for the cleaning products industry.