10/19/2021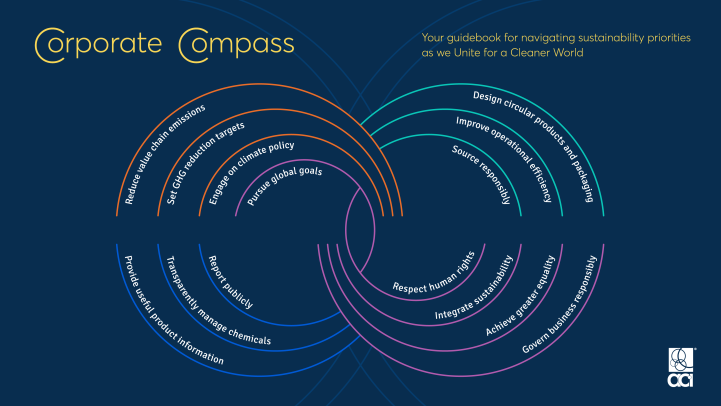 Members-Only Series Offers Resources on Increasing Transparency, Reducing Emissions, Promoting Circularity, Contributing Positively
Member companies of the American Cleaning Institute can now register for a four-part webinar series highlighting tools and resources to help them operate more sustainably while improving environmental and social outcomes.
"ACI's Corporate Compass outlines steps our members can take to support our four sustainability pillars," says Nathan Sell, ACI Senior Director, Sustainability. "By joining the webinar series, members will learn more about the tools and resources available to turn these insights into an actionable plan for your company to drive your sustainability goals forward."
Wed, Nov. 10 - 1:00 PM (EST) Increasing Transparency: Providing the information people need to make better decisions for themselves and their families.


Wed, Nov. 17 - 1:00 PM (EST) Reducing Emissions: Working across the value chain to address climate change.


Wed, Dec. 1 - 1:00 PM (EST) Valuing Nature: Optimizing our use of natural resources and promoting circularity.


Wed, Dec. 8 - 1:00 PM (EST) Contributing Positively: Using our collective scale to build systems that protect human rights, support diversity and contribute to global sustainable goals.
ACI is partnering with the consultancy firm FrameworkESG to dig into the Corporate Compass guidebook for navigating sustainability priorities.
To register for the webinars, click here. Please note this webinar series is open to ACI members only. Each session has its own registration. To attend the entire series, you'll need to register for each session.
Members are encouraged to attend the full series, especially the first session which will also serve as an introduction to the Corporate Compass and lay the foundation for the rest of the series.
For more information, contact Sustainability@cleaninginstitute.org.
---
The American Cleaning Institute® (ACI – www.cleaninginstitute.org) is the Home of the U.S. Cleaning Products Industry® and represents the $60 billion U.S. cleaning product supply chain. ACI members include the manufacturers and formulators of soaps, detergents, and general cleaning products used in household, commercial, industrial and institutional settings; companies that supply ingredients and finished packaging for these products; and chemical distributors. ACI serves the growth and innovation of the U.S. cleaning products industry by advancing the health and quality of life of people and protecting our planet. ACI achieves this through a continuous commitment to sound science and being a credible voice for the cleaning products industry.