12/9/2020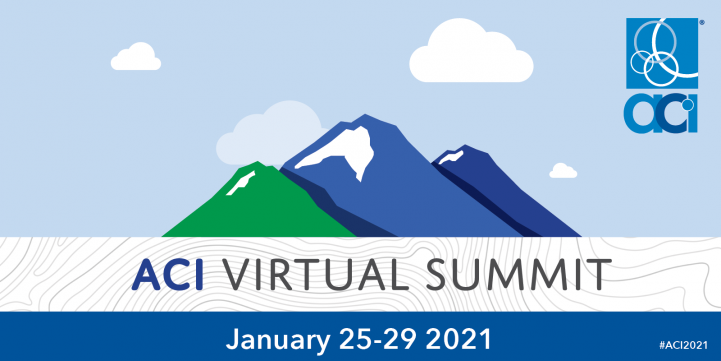 Members-Only ACI Virtual Summit to be held Week of January 25, 2021
The American Cleaning Institute is pleased to announce its first-ever Virtual Summit, to be held January 25-29, 2021.
The members-only event is free to ACI member company representatives, who can register on the association's website at cleaninginstitute.org.
"The ACI Virtual Summit will bring together the global cleaning product supply chain and provide a platform for business, sales, R&D, innovation sharing and marketplace planning for 2021 and beyond," said Melissa Hockstad, ACI President and CEO. "We look forward to providing updates on what's happening in the legislative, regulatory, communications, scientific, sustainability and international arenas throughout our Virtual Summit."
Among the Virtual Summit highlights:
The "State of the Association" update from CEO Melissa Hockstad
Global Industry Update, featuring cleaning product trade associations executives from around the world
Márcia Bolé, Head of R&D Operations, North America – RB: "Stronger Together: a Conversation on Diversity, Equity & Inclusion"
Andrew Cooper, Senior Vice President of Research and Development – Ecolab, Inc.: "New Tech: Fact or Fad?", focusing on how to make heads or tails of emerging technologies, what they can do, and what will stand the test of time
Rebecca Cullen, Analyst - Mintel Group Limited: "Evolution of Clean", exploring consumers' changing cleaning behaviors during the pandemic and what it will mean for future product innovation
Brad Price, Vice President - The Prenda Group: "Guide to the 2020 Election and Forecast of Congress"
Lori Putt, Senior Global Director of Supply Chains - Dow Inc. and Luc Reynaert, Vice President, Product Supply Fabric Care - Procter & Gamble: "Lessons Learned: How the Supply Chain Responded to Covid-19"
Brian Wagner, Co-Founder - PTIS: "The Latest in Sustainable Packaging", providing a look at the current state of packaging and trends in the movement towards a circular economy
Rachel Watson-Clark, Director of Research Development, Cleaning Innovation & Sustainability - The Clorox Company and Rui Zhang, Head of Marketing Home Care and I&I, Care Chemicals, North America - BASF Corporation: "Future of Cleaning: What Cleaning May Look Like in the Post-Pandemic Era"
The ACI Virtual Summit is designed to benefit the year-round members of ACI, who produce, manufacture and market household and institutional cleaning products and producers of chemicals that make those products work; providers of finished packaging; and chemical distributors.
Companies interested in becoming a member of ACI should contact membership@cleaninginstitute.org.
For specific information on ACI Virtual Summit registration and sponsorship opportunities, please contact meetings@cleaninginstitute.org.
Reporters interested in covering the Summit should contact media@cleaninginstitute.org.
---
The American Cleaning Institute® (ACI – www.cleaninginstitute.org) is the Home of the U.S. Cleaning Products Industry® and represents the $60 billion U.S. cleaning product supply chain. ACI members include the manufacturers and formulators of soaps, detergents, and general cleaning products used in household, commercial, industrial and institutional settings; companies that supply ingredients and finished packaging for these products; and chemical distributors.  ACI serves the growth and innovation of the U.S. cleaning products industry by advancing the health and quality of life of people and protecting our planet. ACI achieves this through a continuous commitment to sound science and being a credible voice for the cleaning products industry.